A chatbot
that sells
With our proprietary platform and team of experienced, skilled developers, BES is your partner in transforming the way you engage customers and do business online.
Why Choose Benta?
Request Demo
2019

vs.

2020

Order Volumes in E-Commerce
Year-over-year Growth
in US and Canadian E-Commerce Orders
Year-over-year Growth
in all online retail orders
Projected revenue for 2020
in Philippine E-Commerce (USD)
Why Choose Benta?
Now is E-commerce's Time to Act
Here and around the world, e-commerce has emerged as a key pillar in the world's campaign against the COVID-19 pandemic.
Online shopping is helping millions avoid in-person contact in compliance with social distancing rules and reduce the risk of new infections. Online delivery has been a lifeline for many businesses that would otherwise have to remain closed throughout the extended quarantines, preserving jobs and a sense of normalcy to counter the prevailing anxiety of the day.
Why Choose Benta?
Improve Customer Engagement
With so many companies turning to e-commerce, and with established digital marketplaces continuing to dominate, it will become harder and harder to gain a competitive edge in the new normal where people are being more discerning about their spending decisions.
This is where chatbots can offer some much-needed competitive edge.
In 2019, a study showed that implementing live chat in business websites increased average order value by 14% and website pages views per session by 263%.
And not only were chatbots seen as a way to streamline customer engagement costs by up to 30%, it was found that 63% of millennials – the largest age demographic for e-commerce - actually preferred chat over other modes of communication.
Increased likelihood to convert of prospects who engaged with chat on brand websites
Increased customer spend of those who engaged via chat on e-commerce sites
Percentage of customers who prefer to receive order instructions via chatbot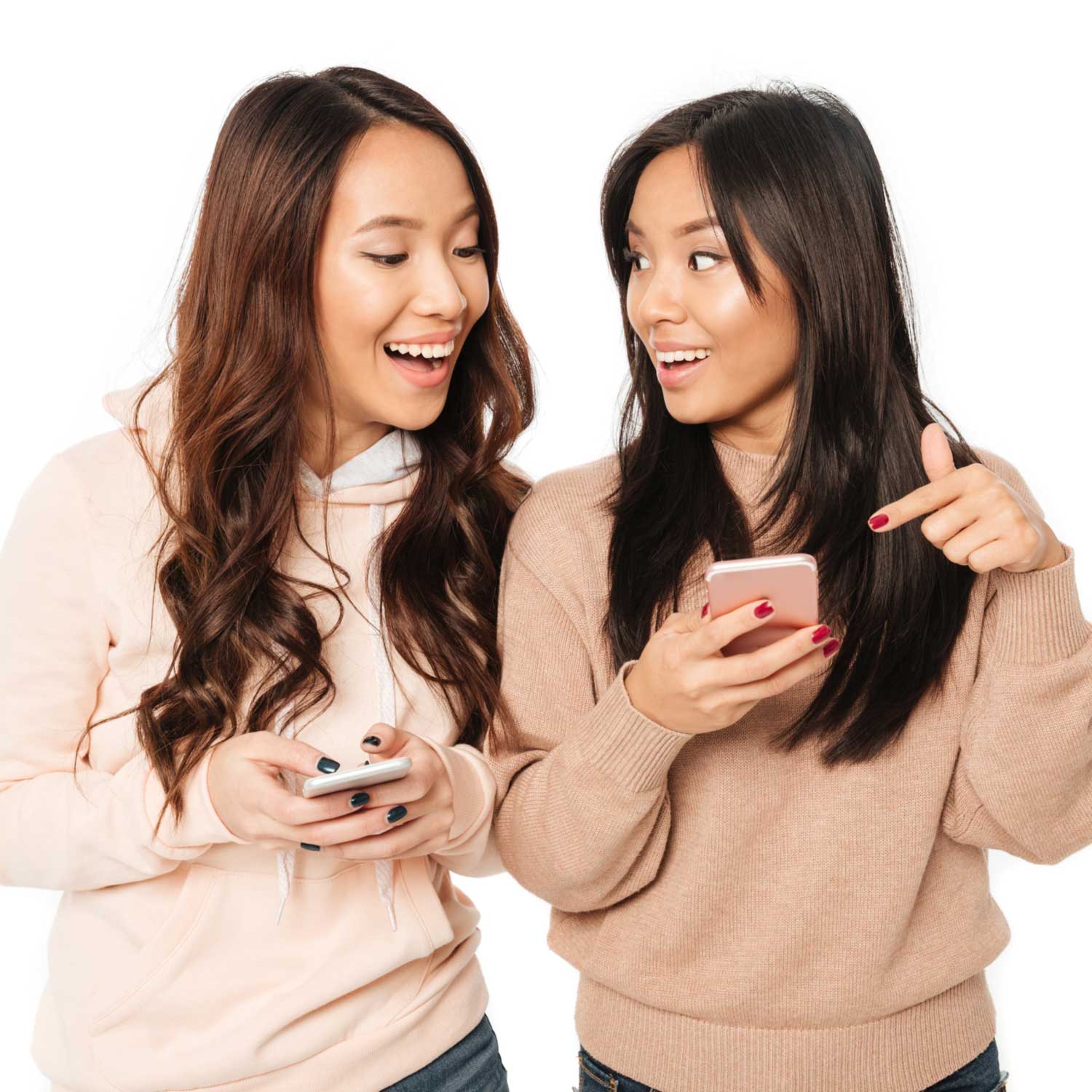 Why Choose Benta?
Facebook Messenger is the 3rd most used social media network by Filipinos.
Of the 73 million internet users in the Philippines, 89% are on Facebook Messenger, making it the third most used social network in the country, closely following Facebook (96%) and YouTube (95%). Taken together with the fact that the Philippines is the social media capital of the world, with 63% user penetration, it becomes clear that having an always-on means of engaging customers on Facebook and Facebook Messenger is now table stakes rather than a mere nice-to-have.
And with COVID-19 changing the way people consume and engage with brands – probably for good – having chat integrate seamlessly with business become nearly mandatory.
Customer Experience
This is where we begin to visualize your napkin sketches and make them into pixels.
Browse SKUs
After initiating the chat and clicking on "Order Now", a webview will open that will display the SKUs.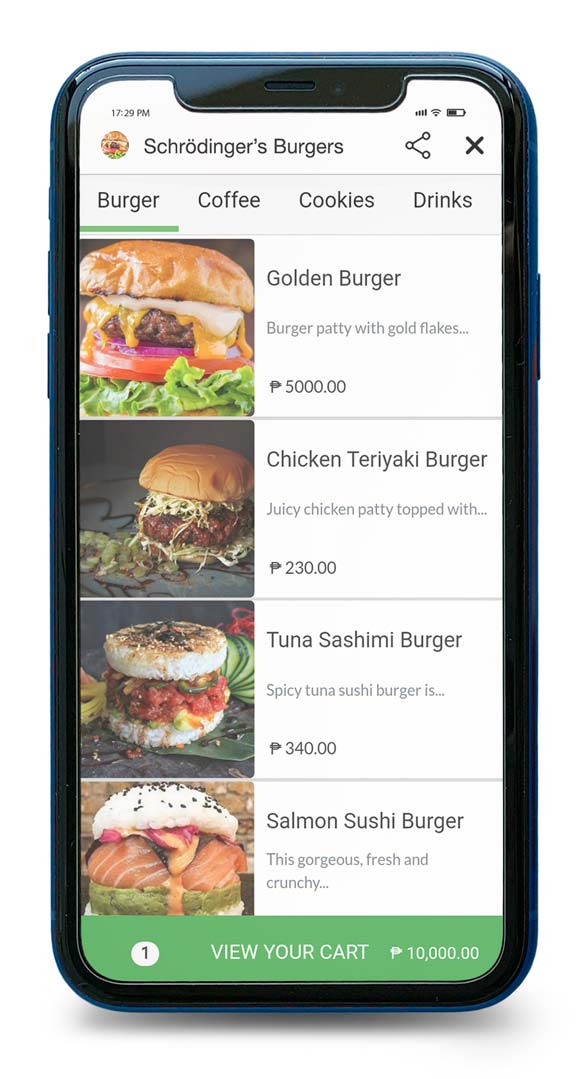 Meaningful, Seamless Engagement
Delight your customers with a seamless e-commerce experience. The platform can accommodate various product categories as well as product types within these categories.
Select SKUs from various product categories
User selects quantity, variant and/or add-ons...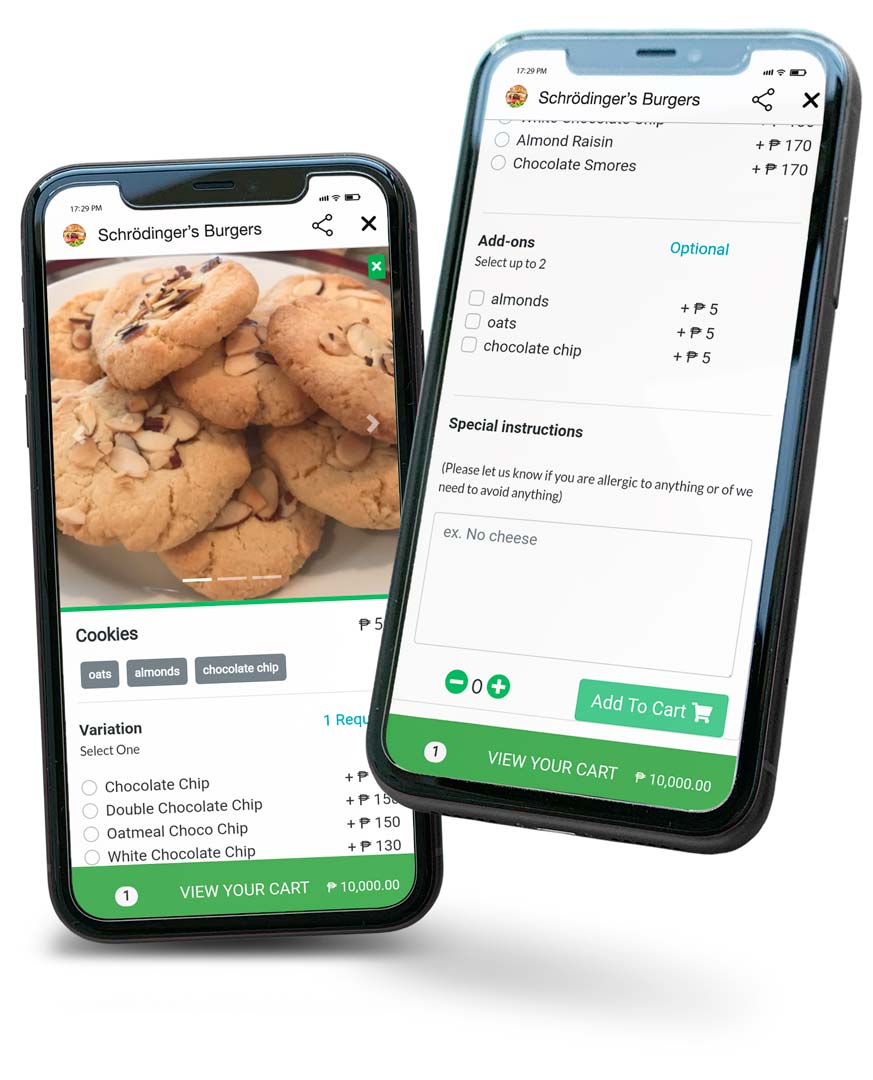 …and give customers the ability to include special instructions
Affording customers a degree of control over their purchases can help make the e-commerce experience closer to an in-store interaction. It is this same warmth and character that we wish to extend through our chatbot, making it a powerful brand building tool as well.
Cart/Order Summary
The user can view selected products, sub. Total, delivery fee, and total. They can also edit the product details as needed.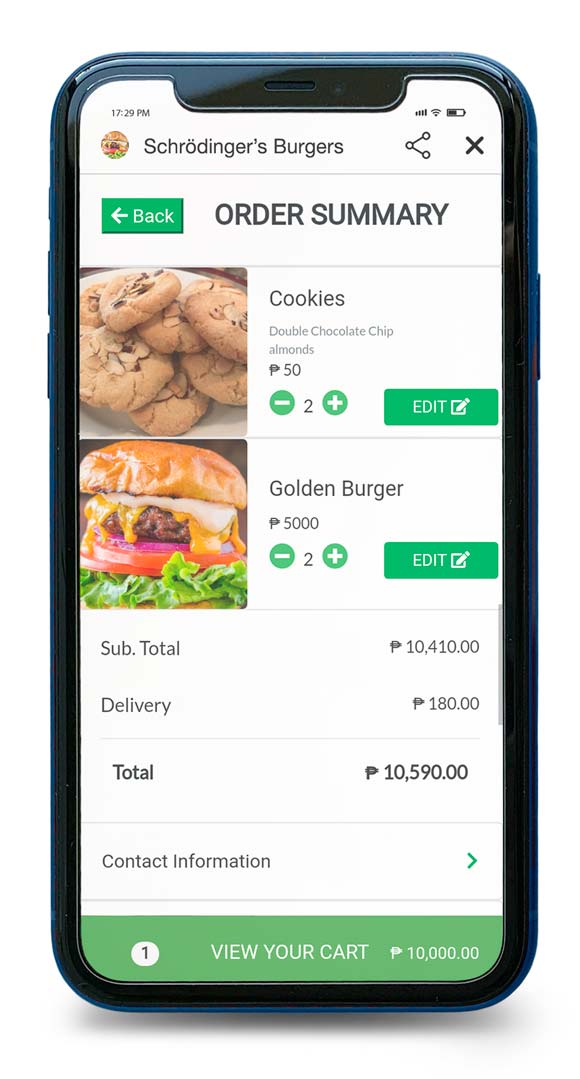 Smooth sailing from start to finish
We make sure that every step of the purchase journey is as streamlined and hassle-free as possible, while offering an intuitive, visually appealing interface that even the most casual smartphone users can understand.
Contact Info
The user enters their first name, last name, contact number, and email address.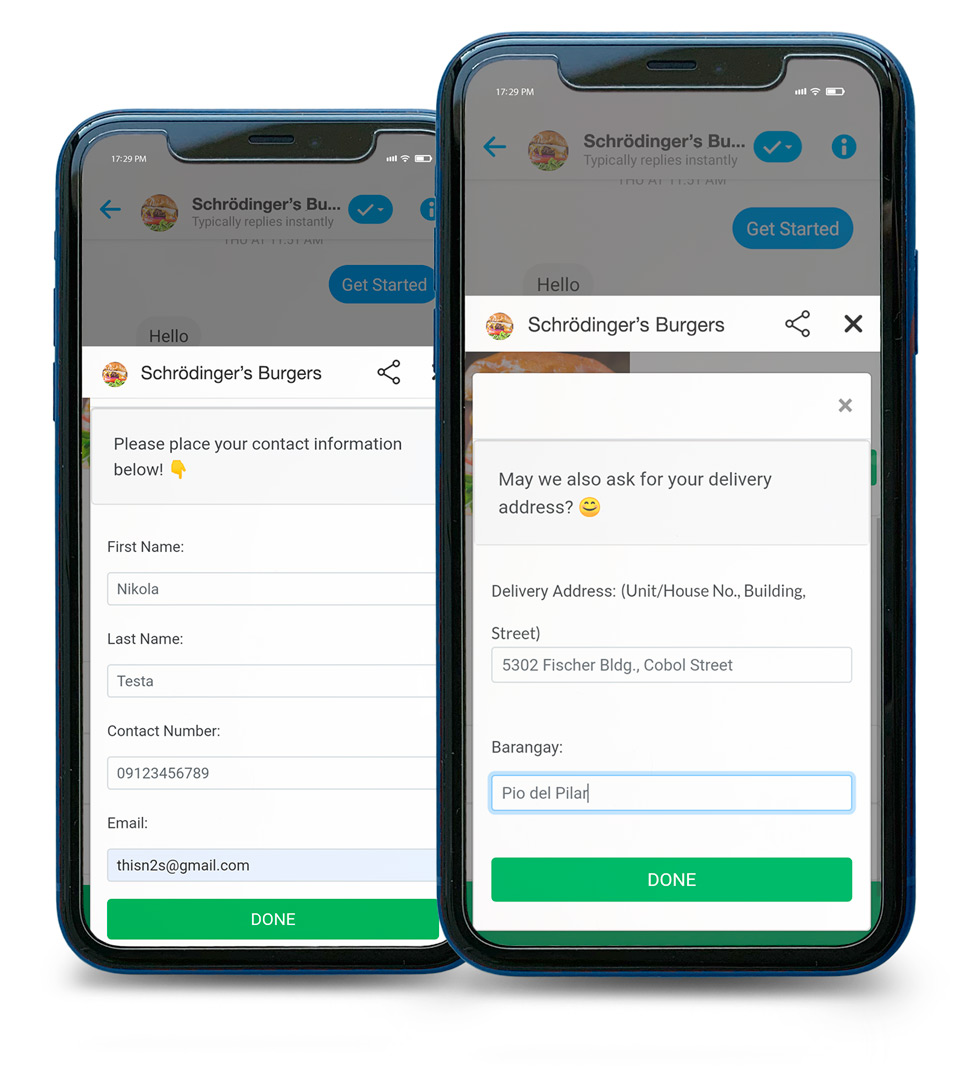 Delivery Details
We also save the customer's delivery address, which can be edited as needed and stored to make future transactions quicker.
Payment Options
User chooses from payment options: Gcash and PayMaya.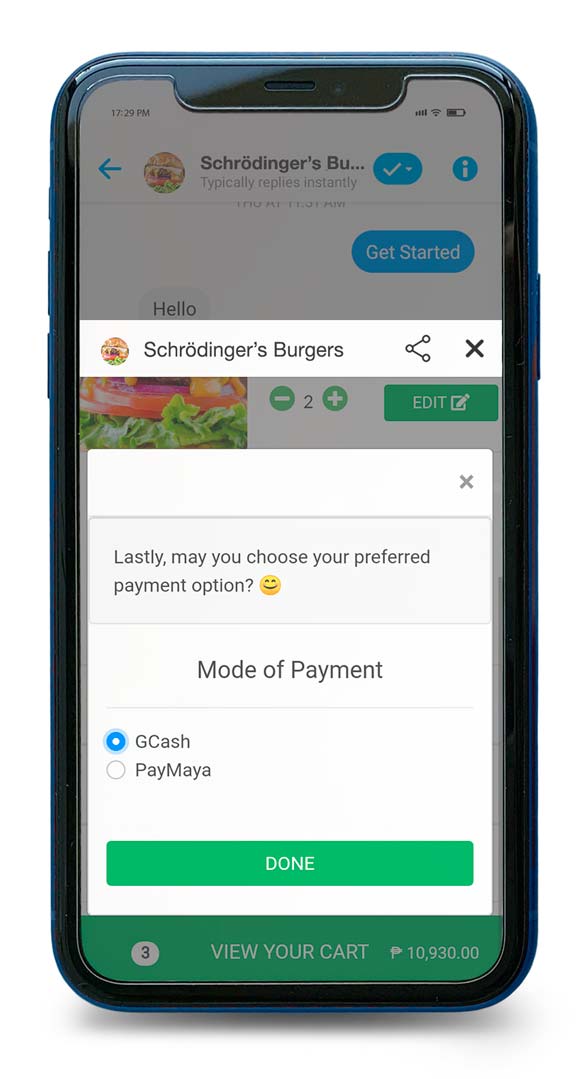 Flexible payment methods serve a variety of customer preferences.
Order Placement and Confirmation
After clicking "Place Order", an order confirmation page will appear after which the chatbot sends the order number and payment details.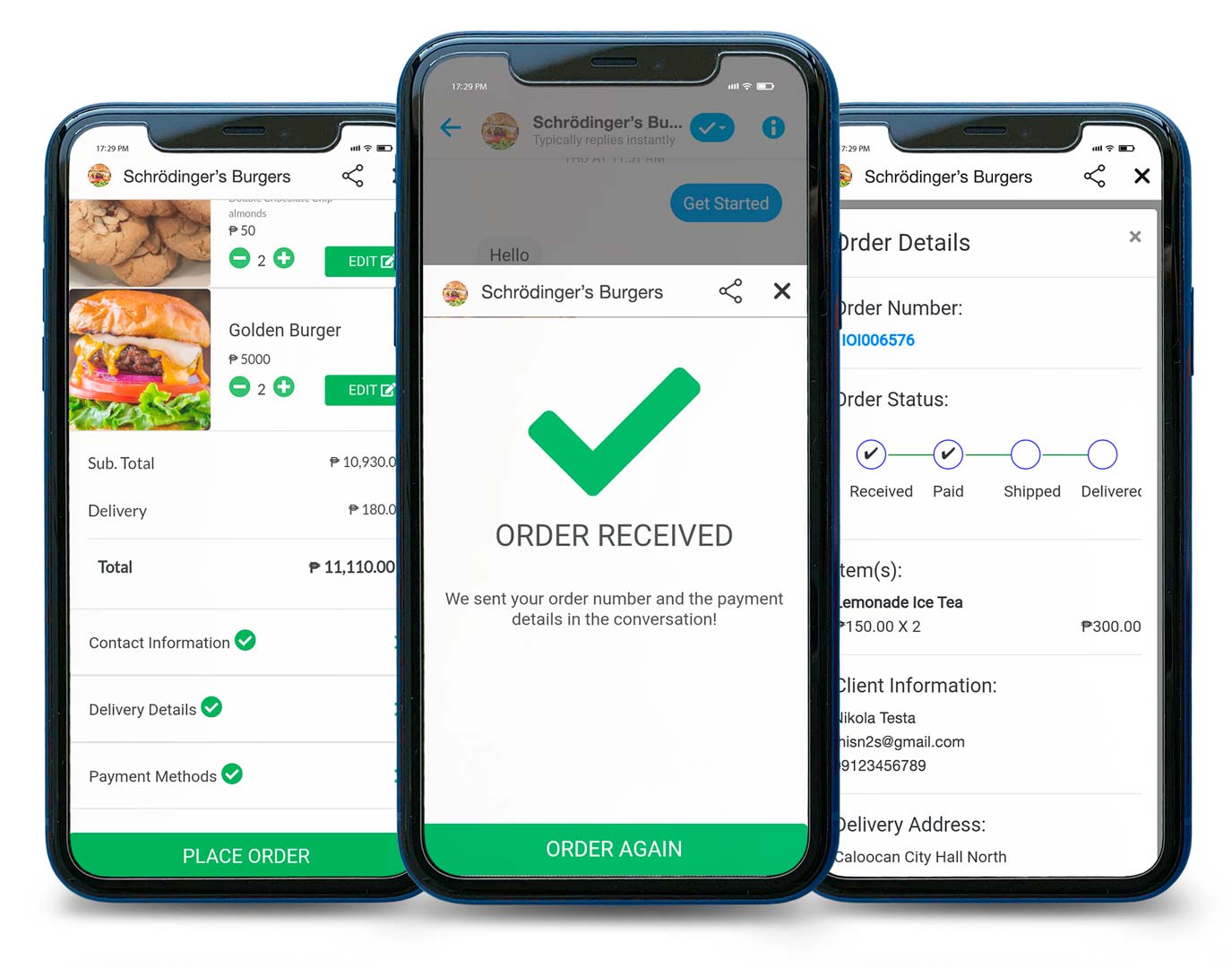 Persistent Menu and Order History
We also offer ways to record order history, which allows them to keep track of the status of their orders and make repeat orders easier - promoting return customers.